The Jacksonville Home & Garden Show – Jacksonville, FL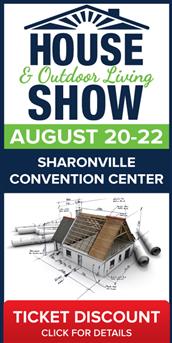 Welcome to the Greater Cincinnati House & Outdoor Living Show. This event held at the Sharonville Convention Center serves the Greater Cincinnati area homeowner by bringing together the most knowledgeable remodeling and building experts in the community under one roof. In the interest of public health and safety, and in accordance with both state & venue guidelines, the Greater Cincinnati House & Outdoor Living Show has updated the layout to aid in social distancing. At this time, it will be mandatory for all exhibitors and attendees to wear a face mask or protective covering, and we ask that everyone observes social distancing in all public event spaces.
When:
Friday, August 20
12:00 PM – 7:00 PM
Saturday, August 21
10:00 AM – 7:00 PM
Sunday, August 22
10:30 AM – 5:00 PM
Where:
Sharonville Convention Center
11355 Chester Road, Sharonville, OH 45246
Parking & General Information
FREE PARKING
Admission Price
Adults $5.00
Children Under 18 FREE
Your business is very important to our business. Our hard cover spas are a relaxing and beautiful addition to your backyard or deck. We personally install every hot tub. Your 100% satisfaction is very important. Which means our customer service doesn't end at your purchase. Call us today at 615-295-1617 and get started!